Board of Directors
Thijs Spoor
Chairman of the Board & CEO
Mr. Spoor previously held the title of CFO for Sunstone BioSciences. Mr. Spoor holds a Nuclear Pharmacy degree from the University of Toronto as well as an M.B.A. from Columbia University with concentrations in finance and accounting. Mr. Spoor has been a guest lecturer at Columbia Business School, Kings College in London and the University of Newcastle in Australia and has presented at medical grand rounds and psychiatric grand rounds at various hospitals on the role of brain imaging.
Prior to joining Sunstone BioSciences, he worked as a consultant at Oliver Wyman focusing on helping pharmaceutical and medical device companies evaluate their global revenue potential given the complex interplay of regulatory approvals, the reimbursement environment, as well as the impact of physician preference within constantly evolving standards of care. He further specialized on the implications of healthcare reform on new product approval and health insurance reform.
Mr. Spoor has also been an equity research analyst at J.P. Morgan and Credit Suisse covering the Biotechnology and Medical Device industries. Mr. Spoor worked in the pharmaceutical industry spending 10 years with Amersham / GE Healthcare where he worked in 7 countries in a variety of roles including setting up GMP facilities meeting ISO 9001 standards, accountability for the entire nuclear cardiology portfolio and most recently as the Director of New Product Opportunities leading the PET strategic plan.
Walter Witoshkin
Director
Walter Witoshkin, is an accomplished executive with 40-years experience in the pharmaceutical, healthcare and biomedical industries. Mr. Witoshkin specialized in alternative sourcing for manufacturing and the acquisition of technologies and products. Mr. Witoshkin previously held executive positions with QuantRx Biomedical Corporation, a medical technology company with leading edge diagnostic and therapeutic technologies. Mr. Witoshkin has previously held executive positions in the healthcare and pharmaceutical industries including senior financial positions at Wyeth Labs (American Cyanimade), VP Business Development and CFO positions at SmithKline Beecham (now Glaxo SmithKline) and Menley & James Laboratories, Inc. He is a founding partner of the Trident Group, a global consultancy to the pharmaceutical industry. He is Chairman of the Board at QuiqMeds Inc.
Peter Conti, MD, PhD
Director, Scientific Advisory Board
Dr. Conti is Professor of Radiology, Biomedical Engineering and Pharmacy at the University of Southern California. He has been the Director of the USC PET Imaging Science Center since its inception in 1991. He served as the President of the Society of Nuclear Medicine and is a major contributor to the development of clinical PET and molecular imaging. One of Dr. Conti's major research interests is in the development of molecular imaging agents for the diagnosis and monitoring of cancer metabolism and cell proliferation. Dr. Conti is Board certified in both Diagnostic Radiology and Nuclear Medicine. He received both his MD and PhD degrees from Cornell University.
Lawrence Atinsky
Director
During the past seven years Mr. Atinsky has been a partner at Ascent Biomedical Ventures (ABV), a venture capital firm investing in seed and early-stage biomedical technology companies developing medical devices, biopharmaceuticals, healthcare services, and information technology.
Prior to joining ABV, Mr. Atinsky was a Mergers & Acquisition attorney at Skadden, Arps, Slate, Meagher & Flom in New York, where he was involved in structuring and negotiating numerous private and public transactions. Mr. Atinsky has also been the General Counsel of several private companies in the healthcare industry and has been a founder and investor in early-stage medical technology companies. Mr. Atinsky earned a JD from New York University School of Law and B.A. degrees in Political Science and Philosophy from the University of Wisconsin-Madison.
Joseph A. Pierro
Director
Since July 2012 Dr. Pierro has been the Chief Medical Officer at Biomedical Systems, a provider of diagnostic services for clinical trials, where he is responsible for leadings its Scientific Affairs groups which provide medical and regulatory guidance with respect to clinical studies. From April of 2009 until May of 2012, Dr. Pierro served as Vice President, Head of Medical Science at Covidien, a healthcare products company, and from July of 2005 until April of 2009 Dr. Pierro served as the Vice President, Clinical Affairs at Covidien where Dr. Pierro was responsible for providing strategic medical direction and operation regulatory and clinical support for new product development. From April 2001 until July 2005, Dr. Pierro served in various medical and clinical roles at General Electric Health Care. Dr. Pierro earned his M.D. at the State University of New York at Buffalo School of Medicine and his undergraduate degree from Canisius College.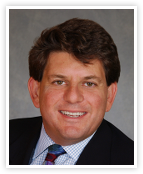 Andrew H. Sassine
Director
Mr. Sassine brings a wealth of experience and credentials to FluoroPharma. He served as a portfolio manager for Fidelity Investments until 2012. During his tenure, Mr. Sassine managed the Fidelity Small Cap Stock Fund, the Fidelity International Small Cap Opportunities Fund and the Fidelity Advisor International Small Cap Opportunities Fund. Mr. Sassine joined Fidelity in 1999 as a high yield research analyst covering the Telecommunications, Satellite, Technology, Defense and Aerospace, and Restaurant Industries and in 2001, joined the international group as a research analyst covering small and mid-cap international stocks. Prior to joining Fidelity, he served as a vice president in the Acquisition Finance Group at Fleet National Bank.
Mr. Sassine has been a member of the Henry B. Tippie College of Business, University of Iowa Board of Advisors since 2009 and is on the Board of Trustees at the Clarke Schools for Hearing and Speech. Mr. Sassine's knowledge and interest in the medical/healthcare sector has resulted in his appointment to several boards: MD Revolution Inc., a privately-held personalized medicine practice management and advisory company focused on leveraging genomics and mobile health technology to improve health; CNS Response, Inc. (CNSO.OB), a clinical decision support company providing reference data and analytical tools for clinicians and researchers in psychiatry; and Freedom Meditech, Inc., a privately held growth-stage medical device company focused on ophthalmic medical devices. Mr. Sassine earned a Bachelor of Arts degree at the University of Iowa in 1987 and an MBA from the Wharton School at the University of Pennsylvania in 1993.